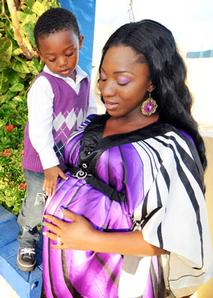 Dancehall diva Spice may not mean what she said in her song Jim Screechie, since the deejay is over 5 months knocked up.
The deejay said her second pregnancy was an unexpected one. She said, "it wasn't planned but I'm happy. Pregnancy is a gift from God, I didn't think I'd have any kids and here I am. This time around I'm keeping the sex of the baby as a surprise for us, its always fun to be guessing and having everyone guess what its going to be. Basically I'm trying to keep my private life on the low. The Jim Screechy song had just gotten out there and people were talking about it so I didn't want my pregnant to overshadow Spice as the artiste. Now people have been calling me saying they've been hearing the pregnancy rumours and I don't want to keep my fans in the dark any longer."
Original article can be read here.